Have you ever wondered if vaping is safe? As the popularity of this activity increases, so do the questions about its potential health effects. We've got all the facts for you to make an informed decision.
From what chemicals are used to the types of risks associated with vaping, you're sure to gain valuable insights here.
Introduction
The use of electronic cigarettes, often referred to as "vaping", has become increasingly popular over the past few years. It is estimated that there are now more than 10 million vapers worldwide, making it one of the fastest growing habits in recent history. While some individuals may be drawn to vaping for its array of flavors and potential for being an alternative to traditional cigarette use, there is a lack of overarching research and evidence on its safety.
Before determining whether vaping is safe or not, it is important to understand what exactly an e-cigarette entails. An electronic cigarette (e-cig) or personal vaporizer (PV) consists of a battery, tank and heating element (atomizer). The device runs on electricity from the battery which heats up the atomizer and vaporizes a liquid solution in order to produce a mist resembling smoke. This liquid can contain nicotine as well as other chemicals that produce flavor and create a more enjoyable experience.
Despite its current usage among adults, there is much mistrust due to concerns regarding its health effects as well its appeal to young people who may not previously have tried any type of smoking device. As such, further research must be conducted in order to answer definitively whether or not vaping is safe for both users and those in close contact with them.
Health Risks of Vaping
The number of Youth, young adults, and adults who use electronic vapor products has grown significantly in recent years. Vaping can pose potential health risks and it is important to understand both the pros and cons before deciding whether to take up vaping.
Studies have shown that regular use of e-cigarettes or other vaping devices may put someone at increased risk of respiratory problems, such as coughing, wheezing, and bronchitis. Additionally, research suggests that chemicals used in e-liquids can cause damage to cells in the lungs and irritate respiratory tracts when their vapor is inhaled.
The chemicals found in many e-liquids are known to have adverse health effects on users, including an increased risk for lung cancer. Nicotine is highly addictive, so vaping can lead to nicotine dependence and even increase the risk of addiction to other drugs. In addition, e-cigarettes come with a variety of dangerous chemicals including:
Nicotine
Formaldehyde
Acetaldehyde
Lead
Cadmium
These substances can irritate the airways and cause inflammation or even cause asthma flares. Long term exposure has been linked to an increased risk of some types of cancers too.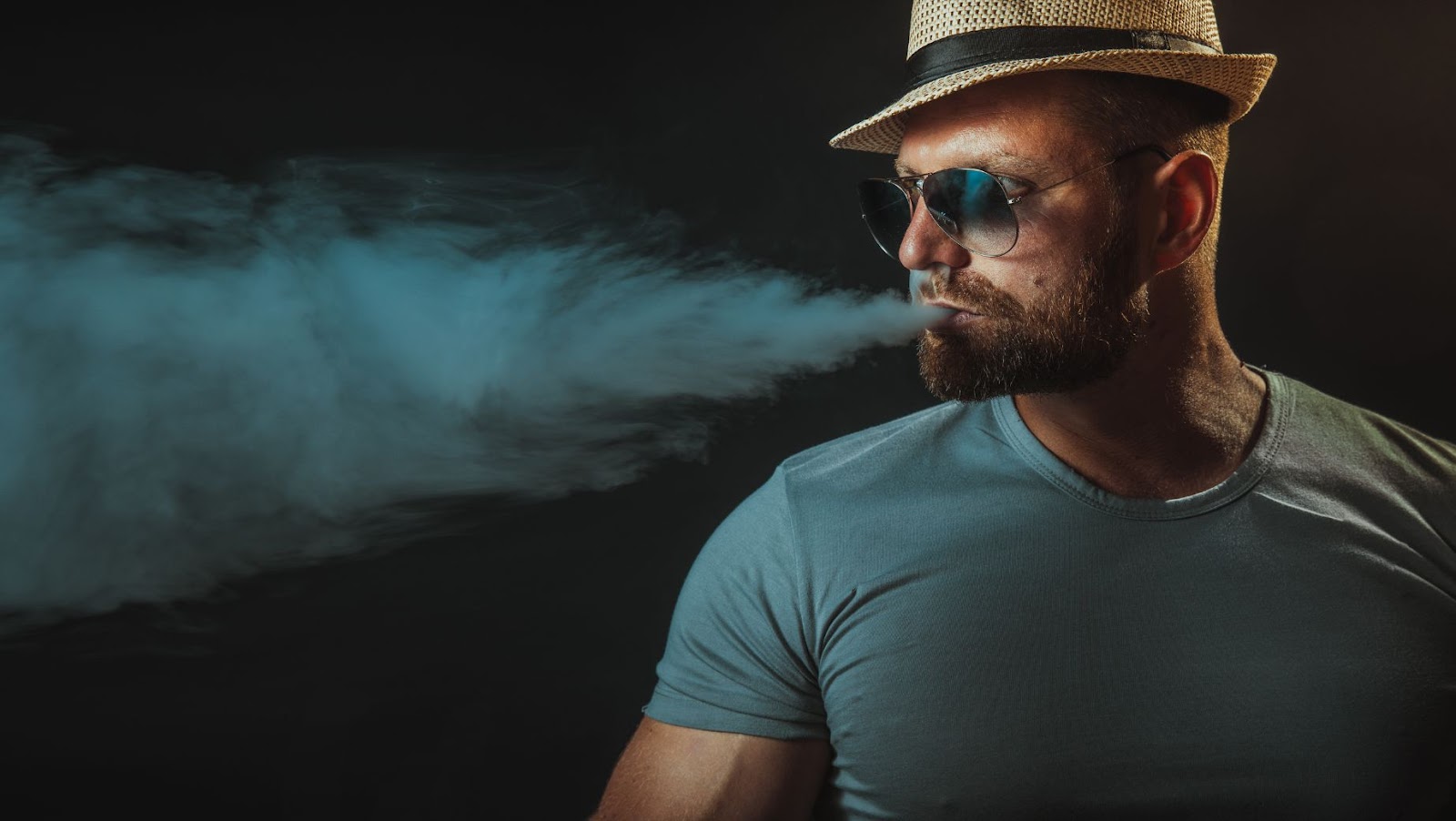 Additionally, there are also concerns that young people who begin using these products may be more likely to begin using cigarettes later on due to the addictive nature of nicotine contained within these products. With all this evidence bringing into question how safe electronic vapor products really are it's safe bet avoiding them altogether puts you on good side with your health!
Vaping Compared to Smoking
Comparing the safety of vaping to that of smoking is an important consideration since many people use vaping as an alternative to cigarettes and other forms of tobacco. When it comes to general health and personal habits, both smoking and vaping can be potentially hazardous. While there are no definitive studies on the effects of long-term usage, there are some differences between the two that may influence your decision.
With cigarettes, many of the hazardous materials come from burning paper and tobacco, which creates more toxins than what is found in many e-cigarettes. The most widely accepted and documented risk associated with vaping, however, is pop Coral Coil Disease (CCD). This has been linked to particular ingredients found in certain liquids used for vaping.
Another way in which smoking differs from vaping is in terms of constituents. While all cigaretttes have similar compositions, e-cigarettes often offer more variability depending on their ingredients such as propylene glycol, nicotine or water depending on what is available locally or online. Some users also add their own choices of flavorings or additives in order to customize their experience.
Additionally, traditional cigarettes contain tar which has been linked to various types of cancer while there is no direct link between tar or carcinogens and electronic cigarettes. Lastly, research suggests that nicotine may not be as harmful when used in moderation as compared with smoking where it can be more problematic due to improper inhalation techniques involving a greater amount being inhaled at once over a longer period which can lead to increased addiction levels over time.
Vaping and Nicotine Addiction
Although vaping is often seen as a healthier alternative to smoking cigarettes, it does come with its own risks. Depending on what type of e-cigarette device and e-liquid ingredients are used, there's always the risk of nicotine toxicity and nicotine addiction.
E-cigarettes use vaporized liquids that contain nicotine, which can be addictive to the user depending on the strength of the solution. E-liquid cartridges for e-cigarettes typically range from no nicotine content to up to 18mg/ml (milligrams per milliliter) when purchased from a reputable supplier. If a user doesn't pay attention to the strength they're using in their device, they could potentially become addicted or suffer from nicotine toxicity over time due to prolonged use of higher strengths.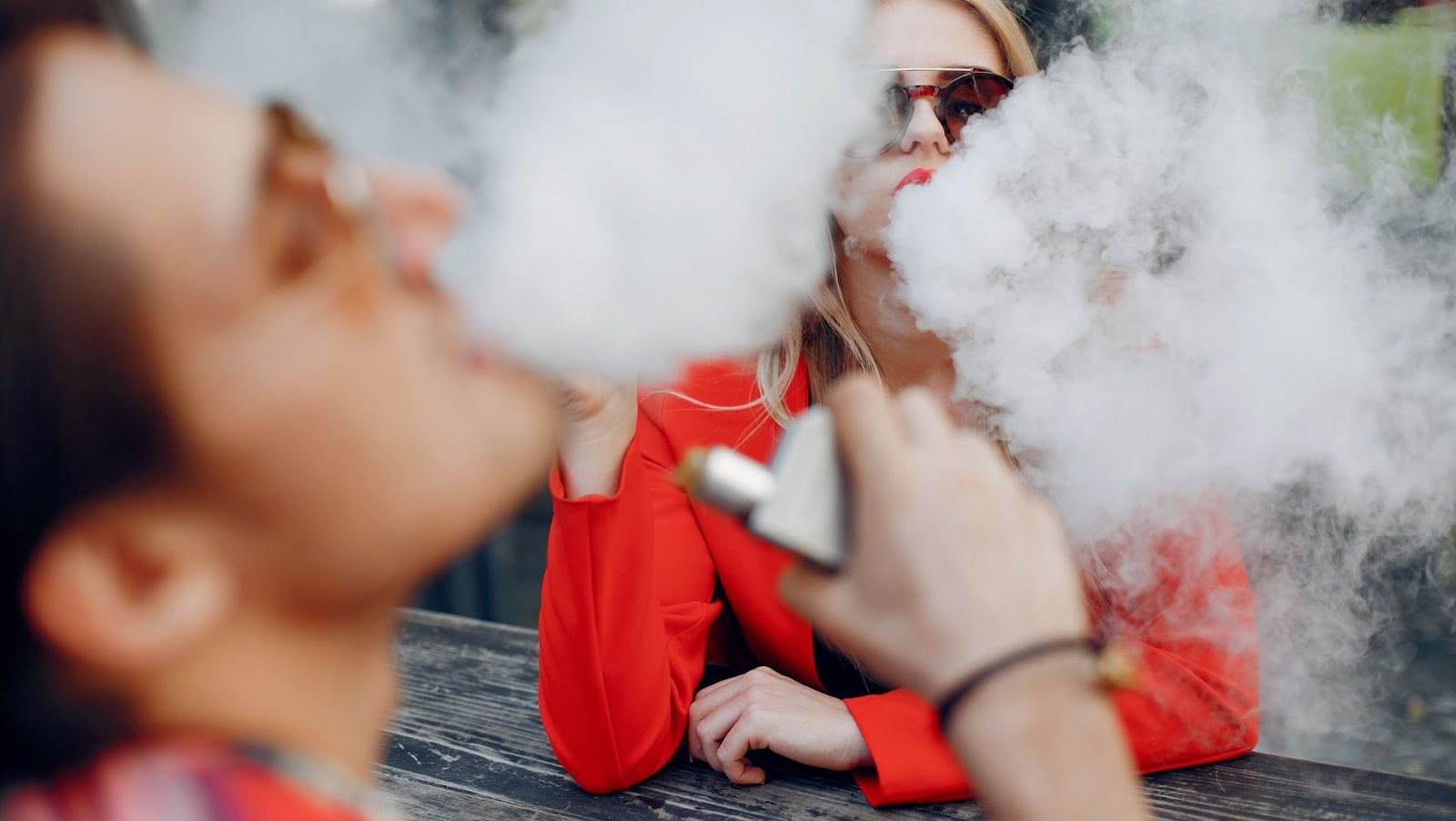 The Royal College of Physicians in London published a review stating that using e-cigarettes is substantially less harmful than smoking combustible cigarettes and can potentially help smokers quit smoking altogether – though not everyone agrees with that conclusion. Long term studies have yet to be done in order to really ascertain whether or not vaping is safe at all levels or has any long lasting health implications – but their convenience and popularity suggests some people are willing to take the risk.
Vaping and Secondhand Smoke
Vaping is widely seen as a safer alternative to smoking, but results from a limited number of studies suggest there may be risks from secondhand exposure. Vape products produce aerosol or vapor, which can contain nicotine and other potentially hazardous chemicals. Secondhand exposure to these chemicals has the potential to harm bystanders, especially vulnerable populations such as children and people with underlying health conditions.
Studies of secondhand exposure to vaping aerosols have found some toxic chemicals in the air near vapers, including nicotine and volatile organic compounds (VOCs). The levels of these chemicals have been shown to be significantly lower than those found in cigarette smoke, typically by more than an order of magnitude. However, while the levels of toxins are lower in vaping aerosols than cigarette smoke, it's unclear what effect this has on human health when inhaled over long periods of time.
It is important to note that e-cigarettes are still relatively new products and their long-term effects are not fully understood. Further research is needed on the presence of toxins in the secondhand vapor from e-cigarettes and their associated health effects. In the meantime, vape users should take steps to minimize others' exposure by not vaping around non-vapers, particularly vulnerable populations like young children or people with underlying health conditions.
Vaping Regulations
Vaping is largely unregulated in many countries, with few restrictions in place. While policies vary from country to country, issues such as age restrictions and public vaping are generally left to the discretion of national governments.
The regulation of vaping products also varies significantly; some countries have enforced regulations aimed at reducing or eliminating the risk of e-cigarette use, while others have not taken any regulatory action. In the United States, for example, the U.S. Food and Drug Administration (FDA) has proposed a set of rules that limit marketing and require manufacturers to disclose the ingredients in their products.
In Europe, many countries have implemented laws either entirely banning or restricting the sale of e-cigarettes and other vaping devices. France, for instance, recently banned online sales of all nicotine-based products as well as flavored e-cigarettes and advertising for them. In 2015, Australia prohibited nicotine liquids from being sold within its borders as well as introduced a law requiring anyone selling vaping products to do so only through approved vendors with appropriate licenses.
Meanwhile other countries like Canada have defined standards for manufacturers regarding maximum allowed concentrations of nicotine and contained flavors in their products which must be verified by Health Canada before they can be sold publicly.
These patterns demonstrate that regulation is drastically different across different countries – making it even more important to research locally accepted vaping regulations before deciding if you want to vape or not.
Alternatives to Vaping
If you are looking for alternatives to vaping, there are many different options to choose from. Quitting smoking altogether is the safest option, and there are a variety of methods available to help you do just that.
Nicotine replacement therapy (NRT) is one option for smokers looking to quit. This includes products such as nicotine gum, lozenges and patches. NRT works by releasing steady doses of nicotine into the bloodstream over time, which can help reduce cravings and withdrawal symptoms.
Another method is behavioral therapy—also known as counseling or "talk therapy"—which can be used in conjunction with medications to Quit Smoking such as NRT or Chantix/varenicline. With this approach, a smoker works with a health care professional on personal goals and strategies for quitting cigarettes at his own pace.
A third alternative is FDA approved prescription medications bupropion (Zyban®), varenicline (Chantix®), or combination bupropion plus varenicline (DuoFenum). These medications may help smokers reduce the urge to smoke without experiencing many of the unpleasant side effects associated with nicotine withdrawal.
Seeking professional help from your medical provider can also include advice about other outlets or activities such as exercise, yoga/meditation/relaxation techniques that have been known to have positive effects in achieving your goal of smoking cessation; some people might even prefer e-cigarettes rather than traditional cigarettes, although it's worth being aware that e-cigarettes still contain nicotine and other potentially harmful substances extracted from tobacco plants.
Conclusion
The decision of whether or not to vape is complex and personal. It is important to note that e-cigarettes contain toxic materials, as well as nicotine and other chemicals, which may be harmful to your health.
In addition, research does not yet have enough evidence to conclusively determine whether electronic cigarettes are safer than traditional tobacco products. Furthermore, the FDA has yet to approve any e-cigarette product as safe and effective for quit smoking.
However, research does suggest that vaping could be less hazardous than traditional cigarettes because it eliminates inhalation of tar and other cancer-causing chemicals found in combustible tobacco products. If you're trying to stop smoking cigarettes, vaping could potentially help you reduce cravings for nicotine and overcome your addiction in a less dangerous way.
As with any decision regarding your health, it's best to speak with a healthcare provider before starting or continuing any vaping habit.