With the rise of vaping, it is important to stay informed. You need to know the potential health risks, benefits and misconceptions of using e-cigarettes. This article brings you five facts about vaping that will help you protect yourself and others. So get ready to learn some surprising truths about vaping!
Introduction
Vaping has grown significantly in popularity over the past decade, but despite its sudden emergence in modern culture, it is still surrounded by some confusion and uncertainty. With various types of vaping devices on the market, along with different flavorings, nicotine levels, and other factors to consider, it's no wonder why consumers may be unfamiliar with such an intricate new technology.
To help shed light on this subject and to help people make informed decisions about vaping, here are five essential facts you need to know:
1. Vaping isn't just used for nicotine – many devices offer flavoring or other chemicals without any nicotine at all.
2. There are both open starter kits and closed systems – open systems have refillable tanks which can be filled up with any type of eliquid the user chooses while closed systems come pre-filled with a specific type of eliquid and aren't meant to be refilled.
3. Different e-liquids have different levels of nicotine – so not all vapers will necessarily always get the same amount of nicotine each time they use their devices.
4. As far as research is concerned, current studies suggest that vaping is less harmful than smoking cigarettes – however more long term research is needed to determine the full effects of vaping on users' health over time.
5. Some states have started implementing laws that regulate where and how people can vape – these policies exist in order to protect citizens from second hand smoke exposure as well as to ensure minors aren't accessing these products illegally or unknowingly being exposed to such products as well.
What is Vaping?
Vaping, or vaporizing, is the act of inhaling and exhaling an aerosol or vapor produced by a vaping device such as an electronic cigarette. Instead of burning tobacco like traditional cigarettes, vape devices heat up a flavored liquid (known as e-liquid) which is typically made of nicotine, propylene glycol, vegetable glycerin and flavoring.
When the liquid inside the device is heated through the user's inhalation, it changes into the vapor which can be exhaled. Vape devices can come in any shape or size but generally fall into three categories: cig-a-likes (smaller pen-style devices), mods (larger refillable devices), and tanks.
In addition to nicotine vaping products, there are plenty of other vape liquids available with nicotine-free options for those who want to enjoy vaping without any nicotine content. A variety of flavors from candy to coffee are also available – giving users more options than ever before when it comes to their vaping experience.
Health Implications of Vaping
The popularity of vaping has grown dramatically in the past few years, and there's still a great deal of uncertainty among consumers about its safety. The long-term effects of vaping are still unknown, but the following information can help you make an informed decision.
Research from Public Health England reveals that vaping is at least 95% less likely than smoking to cause cancer. This conclusion is based on the fact that vaping does not contain any tobacco or create smoke inhalation like cigarettes do. However, even though research suggests that vaping may lead to fewer negative health outcomes than tobacco cigarettes, it's important to keep in mind that it still carries some risk.
Vaping can expose users to some harmful chemicals, like nicotine and formaldehyde, as well as potentially toxic metals such as lead and chromium. These substances may pose a greater danger when heated through a vaporizing device than when inhaled directly from cigarettes. In addition, diacetyl – which is naturally occurring, but sometimes artificially added to flavoring – has been linked to respiratory illness, which raises further concerns about the health implications of long-term vaping use.
Finally powdery particulate matter (PM), which is released from both e-cigarettes and combustible cigarettes, can contain fine particles that are potentially hazardous for lung cells and can contribute to heart disease or stroke risk when breathed deeply into the lungs. The amount released by electronic cigarettes varies based on their components: newer models tend to release far less PM than older designs with wick coils and lower wattage batteries.
In summary: while experts agree that vaping generally comes with significantly fewer health risks than smoking traditional tobacco cigarettes, there are still potential dangers associated with e-cigarette use – so it's important to be mindful of these risks while making vape choices.
Vaping vs. Smoking
When compared to cigarettes, vaping is less harmful and can reduce the amount of nicotine you absorb. A main component of cigarette smoke is tar, which increases the risk of diseases like cancer and COPD. Vaping does not produce tar because it vaporizes liquid rather than burning tobacco. This significantly reduces exposure to dangerous toxins that are linked to smoking cigarette products.
Other substances found in traditional cigarettes, such as acetone and ammonia, are also greatly reduced in e-liquid vaping products. On top of these benefits, many people turn to vaping as a way to gradually quit smoking — or cut down on smoking — since most e-cigarette products allow users to customize nicotine concentration levels per their needs.
It is important, however, when selecting your first product to make sure it's designed with safety mechanisms that prevent an accidental overdose; this depends on the type of device you use and what its default settings are. Be sure to inform yourself before buying a new vape device!
Popular Vape Products
When it comes to vaping, there is an ever-growing selection of products available. Whether you're a beginner looking for something to get started or an experienced vaper searching for something new, there's sure to be something on the market that fits your individual needs. Here are five of the most popular vape products currently available:
1. Pod systems – Pod systems offer a potent and flavorful vapor experience in a sleek and easy-to-use design. These devices typically feature replaceable cartridges with pre-filled flavors, making them perfect for on-the-go vaping.
2. Box mods – Box mods provide users with fantastic customization options and long battery life. These devices are often seen as more advanced than pod systems, with features like temperature control and screen displays allowing users to fine tune their vaping experience as they see fit.
3. Vape pens – Vape pens offer the convenience of a small form factor with potent potential for flavor and clouds at an affordable price point. The smaller tank capacities allow for greater portability without sacrificing too much power or flavor output, making them great for beginners or experienced vapers looking for good value.
4. Mechanical mods – Mechanical mods provide one of the simplest yet most powerful ways to vape, offering consistent performance at high wattages (versus regulated devices) without additional circuitry or features like screens or buttons getting in the way of performance or design choice flexibility.
5. Sub ohm tanks – Sub ohm tanks offer maximum vapor production from advanced coil designs housed in its large tanks that allow maximum airflow potential when using high VG ejuices that are adapted especially for these types of tanks which deliver incredible clouds when used along fashionably designed box mod kits that give off immense power output customizations as well as many sleek designs now available to choose from!
Vape Regulations
As the popularity of vaping continues to rise, governments around the globe are developing regulations regarding the sale and use of e-cigarettes. Federal agencies like the FDA and FTC are among those responsible for implementing these rules. In the U.S., these regulations may vary from state to state, but with recent policy changes it is becoming increasingly important for vapers to stay informed on legal codes related to vape products.
At a federal level, vape products are subject to taxes, age restrictions and advertising guidelines that dictate how they can be promoted online and in-store. While labels vary slightly across states (and countries), most will require a warning statement such as "This product contains nicotine. Nicotine is an addictive chemical" on all packages of e-cigarettes and their components. The FDA has also required manufacturers put serial numbers on their vaping devices in order to better track product sales and inventory.
Some locales have imposed further boundaries on allowing e-cigarettes in public places or regulating how they are marketed to minors; while others have banned certain flavored vape cartridges or imposed limits on sales volume from retailers. With regulations changing quickly, knowing your local area's existing tobacco laws can help prevent unnecessary financial penalties or possible criminal charges for selling or purchasing prohibited items.
It is always a good idea for those looking into vaping for the first time (or even long-time enthusiasts) to look up updated rules or ask questions from expert personnel before buying or selling any kind of vape product in order to ensure compliance with all existing laws as well as safety guideline relating to inhale/exhale methods and use protocols for personal devices versus commercial ones — regardless if out of curiosity or necessity!
Vape Trends
Vaping has grown in popularity over the years, and it doesn't seem to be going away any time soon.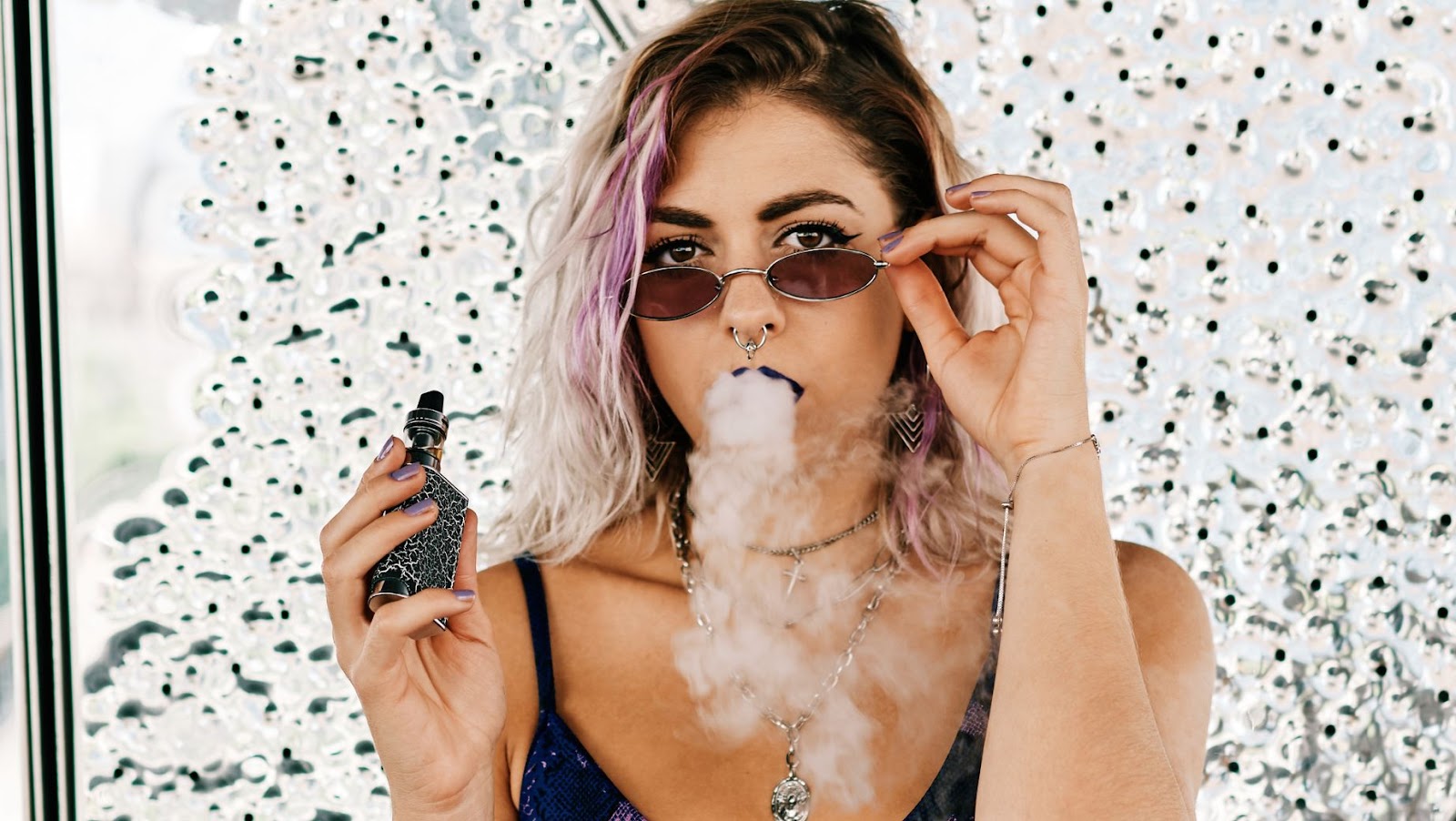 The industry is full of innovation, from e-juice flavors to device designs, as well as different types of delivery systems. Knowing what's trending in vape culture is essential if you want to stay ahead of the curve. Here are five vape trends that you need to know:
1. Pod Devices: Pod devices are incredibly popular right now due to their ease-of-use and portability. They come in a variety of shapes and sizes, but all have the same basic components including an internal battery, wick for e-liquid, and an atomizer for heating vaporizing liquid.
2. Cloud Chasing: For many people vaping isn't just about the flavor or nicotine satisfaction; it's also about making those huge clouds that fill up a room with tasty vapor! There are a number of cloud chasing competitions that have sprung up over the last few years showcasing some amazing vaping skills.
3. Nic Salts: Nic salts were developed as an alternative way to get more nicotine into your system without having to use high VG juices or take bigger puffs than normal— earning them lots of praise from consumers everywhere! They offer a smoother throat hit with higher nicotine levels than what is typically found in freebase e-liquids (non–nic salts) on the market today.
4. CBD Oils: CBD (Cannabidiol) oils are a type of hemp extract which contains naturally occurring CBD molecules mixed with an oil base like coconut MCT oil or Propylene Glycol (PG). This combination makes for a more efficient delivery method since CBD absorbs better in lipids which can help unlock its full potential faster than other delivery systems available today – this makes it increasingly popular amongst vapers everywhere!
5. Mods: Mods have been around for quite some time however there is now more diversity than ever before -from regulated ("box") mods with wattage adjustment and temperature control functions too much bigger unregulated mech ("mechanical") mods designed for experienced users only! Regulated mods typically include additional features that allow you adjust specific settings such as voltage output and maximum wattage; while mech mods can be built custom depending on user preference – regardless both offer users ultimate control over their vaping experience when choosing either option!
Conclusion
Ultimately, vaping is a personal choice and should be taken seriously. When using a vaping device, knowing the facts can help you to make smarter decisions and keep your health at the forefront. Remember these five key vape facts:
-Vaping includes the inhalation of nicotine, which can lead to addiction.
-Vapor products contain chemicals and some may not be listed on labels.
-When nicotine is present, it has been found to have an effect on brain development in adolescents and young adults who use e-cigarettes.
-Following instructions that come with your equipment is key to keeping you safe when using them.
-It is also important for users to practice proper maintenance for their devices by regularly cleaning them and regularly changing cartridges or atomizers/cartomizers when necessary.